Product Description
construction materials of spanish Roofing Sheets/big wave Roma style roof sheet for house/red color spanish resin roof tile
| | |
| --- | --- |
| Thickness | |
| Width | |
| Length | |
| surface | |
| color | orange,brick red,hot red,blue,green,gray,white etc. |
| Material | |
| Tiles style | Royal/spanish style,Roma style,Europe style,Small wave,big wave,Trapezoidal style |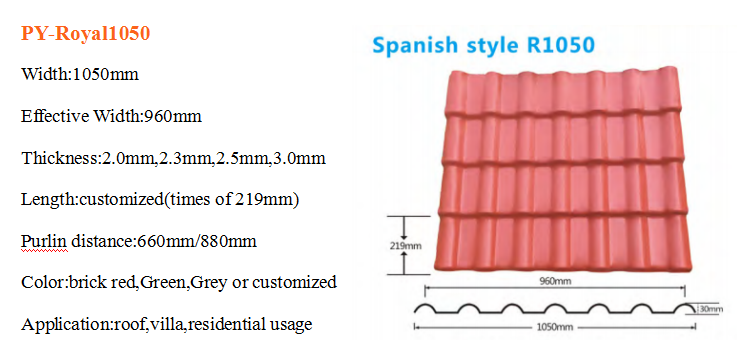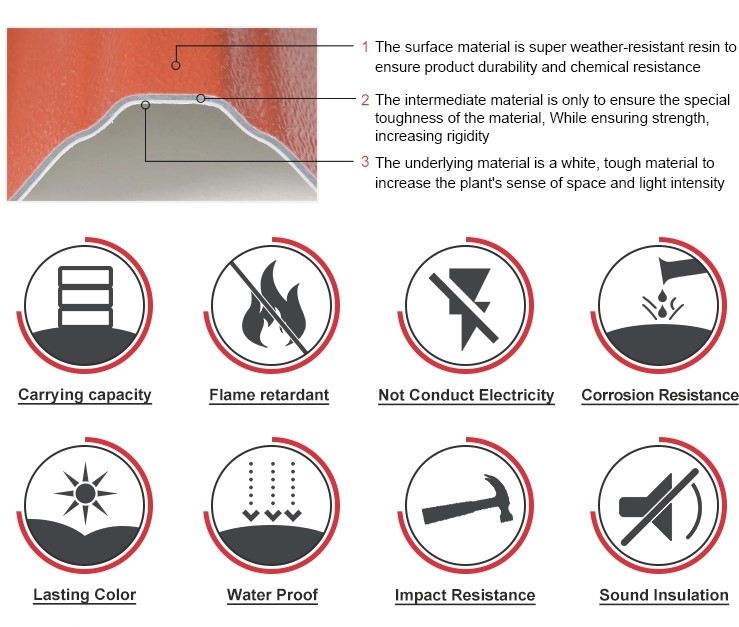 · Long-lasting Color (at least 10 years)
· The product features ultra durability in natural environment.Even under tough conditions of exposure to UV,high temperature and freezing coldness,it still keeps stable color.
· Excllent Anti-corrosion performance
· Synthetic Resin Tile can resist longterm acid ,alkali and salt corrosion ,etc.Tests have proved that there would be no chemical reaction after soaking in salt and alikali and various acid under 60% .It is ideal for application in areas where acid rain is common.
· Good Waterproofing Performance
· Synthetic Resin Tile selects highly weater-resistant resin,which is dense and absorbing no water,with no pore penetration problem.The product is 45% wider than traditional tiles with less roof contact,so synthetic resin,s waterproof performance has greatly increased than traditional tiles.
· Strong Fire Resistance
· Belonging flame retardant material,with fire resistance ≥ B1 as tested by national authoritative departments according to GBB8624-2006 standard.
· Excellent Heat Insulating Property
· The heat conductivity coefficient is 0.325w/m.k,about 1/300 of clay tile ,1/50 of cement tile,and 1/2000 of thick color steel tile.Therefore without condidering ading heat-preserving layer ,the heat insulation and heat preservation of synthetic resin tile can still be optimized.
· Good sound insulation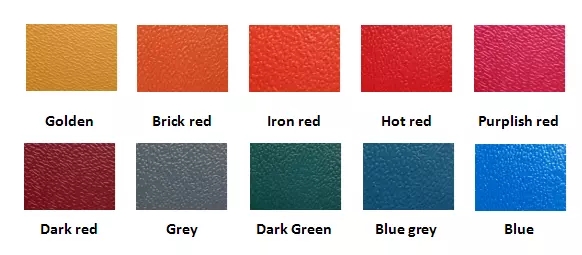 Projects show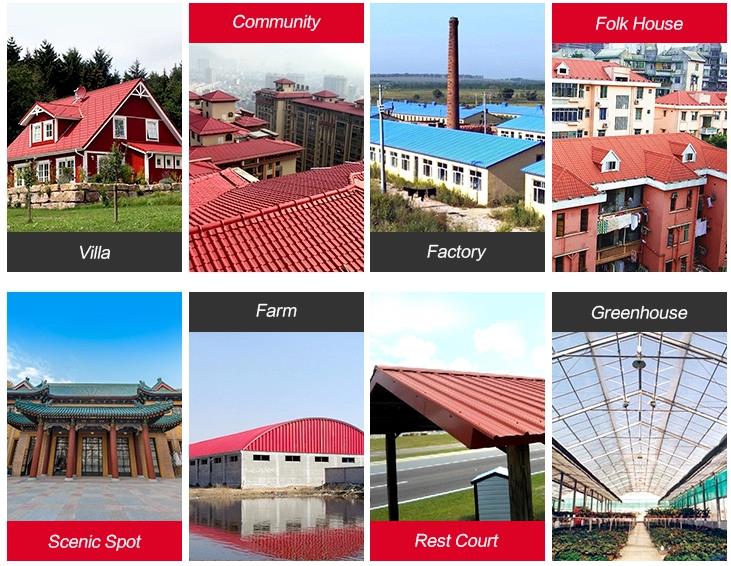 Product Categories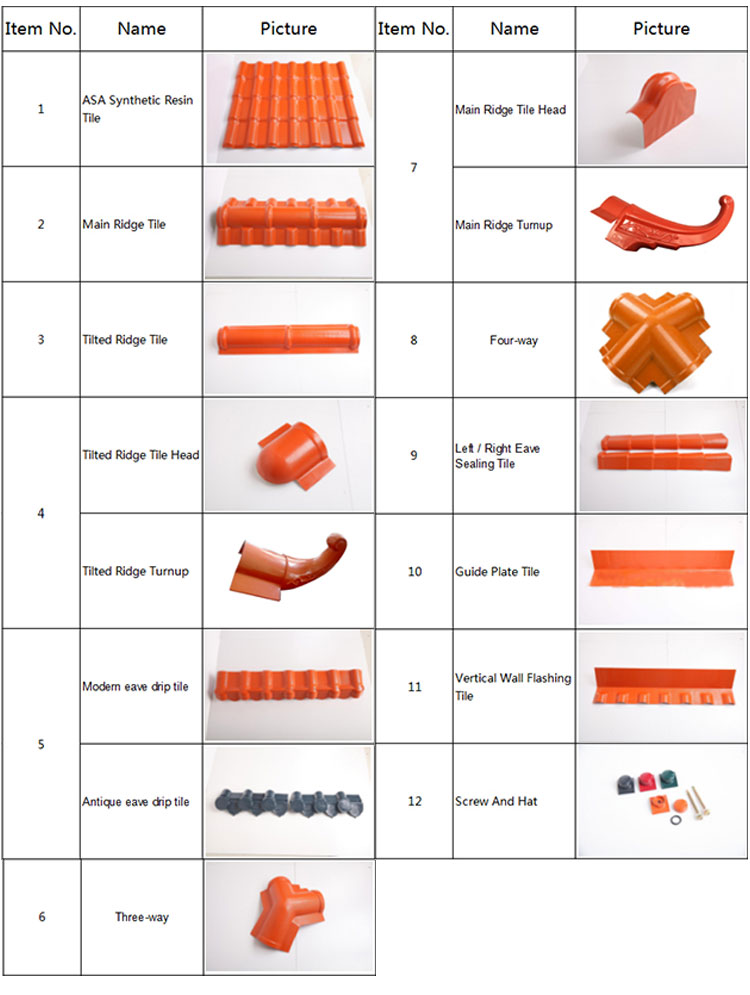 Main accessories description:
(1)3-way ridge:it is used as the joining element between the linear ridge and the side ridge for a four-slope roof.
(2)Top ridge tile:Install top ridge from one side and cut the first tile in half to avoid the crossover of four sheets on the overlap.
(3)roof tile:Overlap by one wave and every sheet should be assembled as close as possible to the one overlapped.Cut the first sheet of second row in half to avoid the crossover of four sheets in the overlap.
(4)Side ridge:install side ridge tile from bottom to top with a overlap of 50mm .Align the side ridge in a straight line.
(5)Purlin:The purlin space is 800mm for 2.5mm thicness and 1000 mm for thickness 3.0mm.
FAQ
1. What machine do you use to cut the roof sheet and roof tile?
Using portable cutting machine.
2.What machine do you use to install the screws?
Portable electric drill.
3. How to install the roof sheet and roof tile?
Overlap, on the vertical direction overlap 150-200mm, on the horizontal direction overlap one wave.
4.What is the temperature limited of the environment that your roof can be used?
Temperature range: From Minus 35 degree to 72 degree.
5.What color can you produce?
White, blue, brick red, green, grey etc, same as our color swatch. If you need special color, please provide sample.
6.Does you charge for the samples?
According to our company policy, we just sent free samples to customers while the customers bear the freight fees. And pls. inform us the samples size for your reference.
If you have any requirements, please feel free to contact us.
Good quality, good price, good service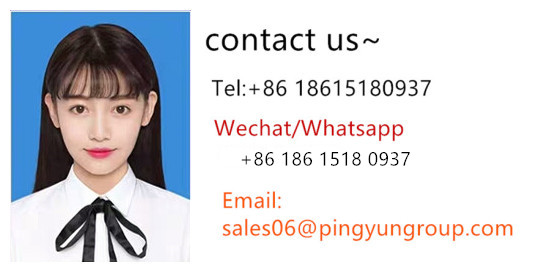 Free sample is available for you to check