Product Description
Colombia most popular pvc roof tiles for house/anti corrosive roof sheet for prefab house/building material pvc roofing sheet
Width:1130mm
Thickness:1.5mm,2.0mm,2.5mm,3.0mm
Color:white,blue,green,customized
Application:Roof ,ceiling,wall panel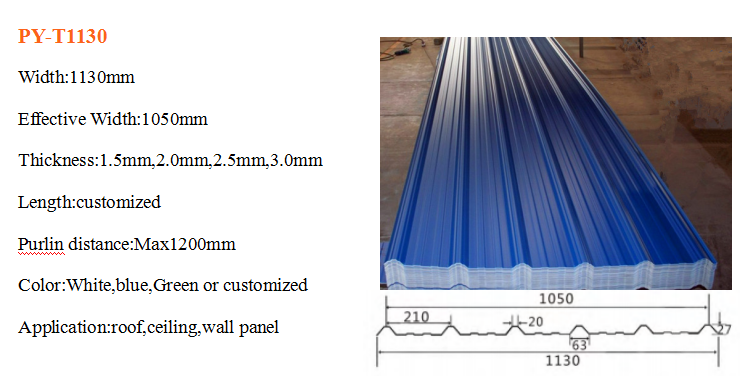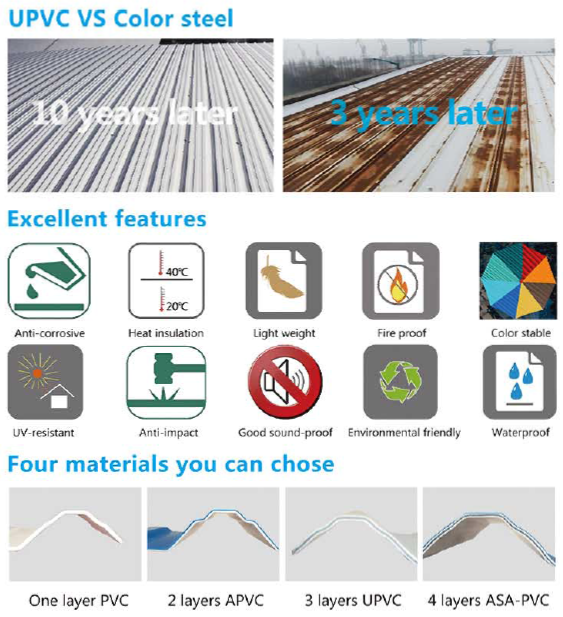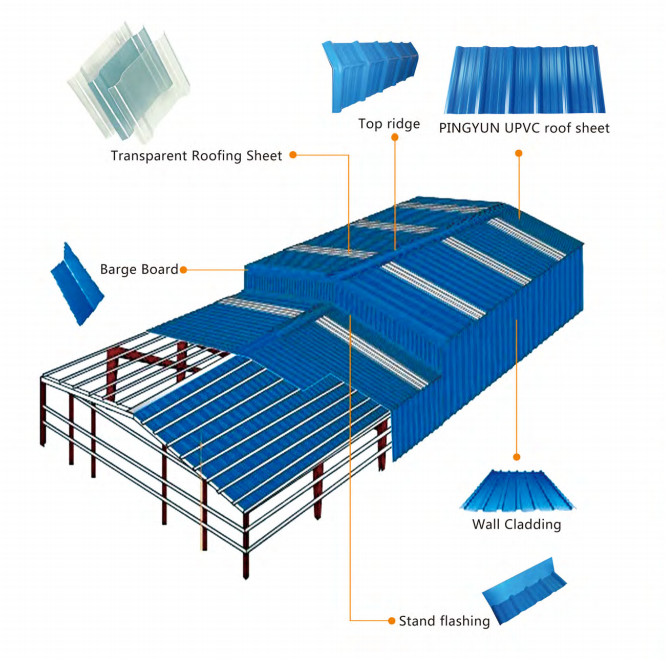 Product color support customization, you can choose the color.

Our Advantages
Heat Insulation
(1) PVC has a very low heat conduction coefficientof 0.325w/m.k.
(2) The sunlight cannot go through our roof sheet.(3) UPVC is 3 layers of PVC,this is better for heat insulation.
Fireproof
PVC roof sheet have been passedthe building fire protection grade.The fire prevention level is B1.
Color Stable
We could add ASA coatingon the surface of roof sheet,this could keep the color unfading for at least 10 years. It can maintain the stability of the color, even when exposedto harsh UV-rays,moisture,high and low temperaturesall year-round.
Waterproof
Water can't pass through PVC roof sheet.
We have special styles for area of heavy rain.
Corrosion Resistance
PVC roof sheet is highly resistantagainst chemical corrosion of acid,alkali, etc.It is good for chemical factoryor acid rain area.
Impact Resistance
PVC roof sheet has excellentload bearing performanceand could withstand even1 50kgs without any damage.
Soundproof
PVC roof sheet can make noisedown 30dB than color steel sheetand other tiles.
PVC ASA plastic roofing tile anti-corrosive
UV protected corrugated sheet Application:
1.Roofing for workshop, warehouse,prefab house,villas and market etc;
2.Garden, greenhouse, and indoor fish farming sheds;
3.Shed for cars, corridor, passageway and balcony etc;
4.Waiting room of modern railway station, bus station, docks of ferries, airports etc.
•Our products are suitable for farms, chemical plants, folk houses, etc.