Product Description
anti uv plastic twin wall sheet for villa/ASA UPVC weather resistance hollow roof sheet for construction/PVC hollow roof tile
Thermo roof is an innovation ,it is successful roofing design ,the hollo structure has perfect performance in heat insulation.With only 30% cost os PU sandwich panel,ThermoRoof is the best alternatives than sandwich panels.ThermoRoof also coted ASA material on surface that can well resist UV to lasting its lifetime.
Product description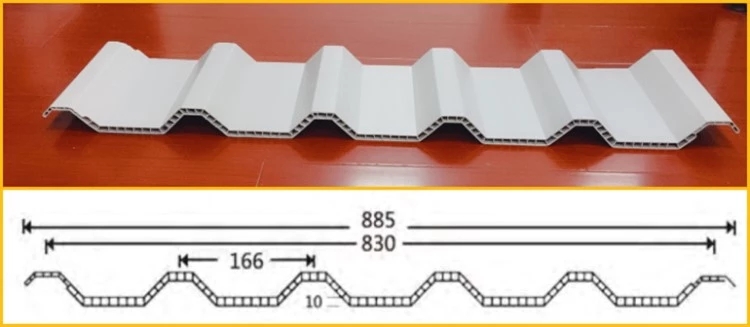 Description

Printed corrugated plastic packaging boxes, storage boxes

Material

PVC+ASA,UPVC+ASA,PVC,UPVC

Width & length (mm)

Width:885mm(Max)

Length: Max:11.8m

Size

As per customized design(Width:Max.11.8m)

Application

Packing:

standard seaworthy packing , as client's requirement

Advertising:

sign board,exhibition boards,picture frame backing,

digital printing and screen-printing.

Decoration:

partitions, wall cladding, indoor or outdoor decoration,

windows and false ceilings.

Colors

Transparent, white, red, blue, yellow, green, black, pink, etc

Excellent features
1. Extraordinary thermal preservation and thermal insulation: The coeficient of heat conductivity is 0.325 w/m.k.
2. Good sound insulation: It is non-conductive and remains intact in case of accidental discharge.
3. Excellent corrosion resistance performance: The inner and surface parts of resins both have
excellent corrosion resistance performance, against the rain and snow corrosion, and can be
resistant to acid, salt, alkali and various chemical elements for a long time.
4. Good resistance to impact and low temperature: This tile doesn't crack after 1KG steel ball falls
on it from 3 meters high. Moreover, the resistance to impact under minus 40 °C low temperature
is also very outstanding.
5. Excellent waterproof performance: The high weathering resistance resin adopted in the roofing
tile is compact and does not absorb water.
6. Strong fire resistance: The inner material PVC resin is difficult-flammable material, and
it is tested by the state authoritative department of fire prevention, its fire proofing performance
is ≥ Class B1.
7. Stable volume: The expansion coefficient is 4.93×10-5 mm/mm/°C, besides it also has a two-way stretch performance on geometrical shape, which enable it to accommodate to its extension
even in case of big temperature change.
8. Perfect self-cleaning performance: It is clean and looks new again after being washed by rain,
no mark is left on the surface.
9. Friendly environmental protection: Without any asbestos or radioactive element, it can be
recycled and completely meets the requirement of environmental protection.
10. Fast installation: It is light and easy to be assembled and disassembled.